Some of you may remember from late January this year that a cat named Milly was left at our cafe in a box.
Milly was very nervous. We knew she wouldn't be able to cope with cafe life, so Abbie and Redd kindly agreed to foster her until she was confident enough to be re-homed on a permanent basis.
Since that time, Abbie and Redd have kept us updated on her steady, but very slow progress. They've been doing a wonderful job helping to bring Milly out of her shell and they have brought her to a level that will allow us to find a permanent home.
Here's an update on Milly and also a call-out for a new home for her. Milly is likely to need a home that meets these requirements:
A quiet home with secure outdoor access. She calls to be let out a lot, but because she's so flighty and Abbie & Redd don't have a secure garden, she has had to be kept indoors the past 5 months. Their impression is that this isn't what she wants longterm and she will be a happier companion if she has access to a secure garden.

A child-free and pet-free home. She's very timid and is unlikely to cope with children or other animals well.

A hands-off human friend who is willing to take their time with Milly and let her slowly come to you.

A gentleman carer is likely to have more success with her. Milly seems to respond more positively to male carers more than female carers (you'll notice that Redd features a lot of our photos of Milly in this post! His presence reassures Milly a great deal and it's easier to catch her on camera if he's around and she feels more sociable).



How Milly has changed
In our previous post, Abbie told us about how Milly would squeeze herself into all sorts of improbable hiding spaces where she couldn't be seen. They would usually hear her emerge overnight when they were in bed, but she would rarely come out to eat or move around while they were up and about.
She's now much more comfortable being seen, and will perch neatly under Redd's desk and in the living area. She's still easily spooked, but so long as she's left in peace she will happily remain with the family.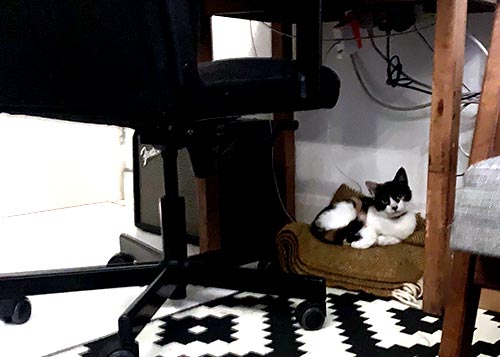 First Contact!
Redd was the first to make contact with Milly - by this time, Abbie and Redd had waited nearly 5 months for a cuddle with Milly!
Redd was able to touch Milly for the first time by coming down to her level and moving very slowly. Abbie was able to catch the fateful moment that Milly let them first touch her, in the picture on the left.
Since then, they've continued to make progress, as you can see below. Milly has allowed Abbie to stroke her and has allowed Redd to pick her up!
What's next for Milly?
Now that Milly is able to be handled, it's time to find her a new home, arrange for necessary medical care and allow her to carry on her days in her ideal forever home. She's done so well!

We're now able to proceed with basic medical treatments, which we withheld previously due to her obvious trauma. We are expecting some setbacks to her progress because of this, but these things have to be done and have been delayed longer than we would have liked. We are especially mindful that Milly is likely to backslide and revert to fearful behaviour after her spaying procedure, as that is going to cause her distress that we can't avoid. Because she's so sensitive, we are looking for a family who are willing to work with her to re-establish trust.

Because Milly is so special and needs extra TLC, we aren't sharing the usual adoption form, as we'd like to have a conversation with potential adopters rather than collect responses. We'd love to chat with you if you're interested in Milly (adoptions@ladydinahs.co.uk)

She is a very sweet lady who is a little scared to love at first. However with time, patience and a gentle approach, we can really see she has the potential to become a dear little friend who will never leave your side.
Please email us as adoptions@ladydinahs.co.uk if you'd like to talk about adopting Milly and offer her a better life than the one she started with. Milly is excited to see who reaches out and is and avidly watching the iPad for incoming emails!
Final thanks to Abbie and Redd
We've said it before, but it bears repeating: the cafe team are so impressed and delighted with the changes Abbie and Redd have been able to bring about in Milly. From a terrified abandoned moggie to a tentative housecat, they've done a great job bringing out Milly's potential and we're so proud of them and very grateful. We are sure Milly is too! Thank you, guys. Xx